In order to establish more channels of our overseas exchanges programs and improve the quality of talent training, Baoquan Liu and Yuxin Li, two of our associate professors, Peng Ping, international student liaison officer of Massey University business school, Qiong Zhou, director of overseas project, Professor Chi of Massey University School of Economics and Finance had an in-depth discussion on our short and medium term exchange programs as well as summer school held by both sides, and finally reached a preliminary consensus. Dr. George Ding of Massey University, Xiaolin Yan, our foreign affairs secretary, and Luyao Ma, foreign affairs secretary of SISU School of Journalism and Communication also attended the meeting.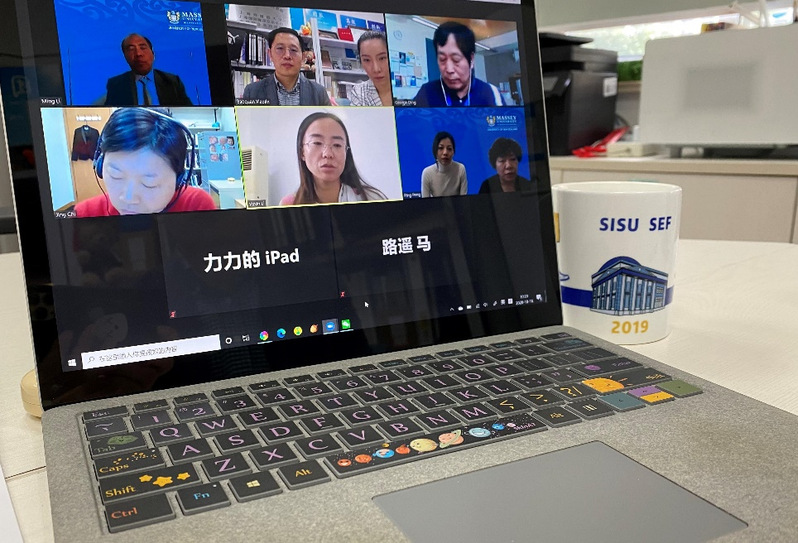 During the meeting, the two sides demonstrated their willingness in academic exchanges and cooperation in overseas programs, and finally confirmed some details and development plans of relevant exchange programs. Representative of Massey University spoke highly of our rich experience in overseas exchange programs and affirmed our advantages in joint talent training. Baoquan Liu pointed out that under the circumstances of the gradual easing of the COVID-19, it is necessary to actively carry out overseas cooperation. The adoption of online teaching by both sides can, to a certain extent, break the barriers of international exchanges under the epidemic situation.
This year, the COVID-19 and the accompanying economic downturn caused overseas exchange programs more difficult than before. However, our college made effort to carry out activities and meetings online with those foreign partner colleges, and finally achieved remarkable results in our college's international development. In the future, our college will continue to promote overseas exchange programs and cooperation with famous foreign universities as usual. We are looking forward to establishing and providing more overseas exchange programs with different universities all over the world basing on the characteristics of our college for our professors and students. And we hope to further enhance the reputation of our college.