The Seminar on High-Quality Development of Cultural Industries was held on January 14, 2020 at the British Hall of the Conference Centre, Shanghai International Studies University (SISU). It was chaired by Professor Zhang Yugui, dean of School of Economics and Finance at SISU. Experts from relevant fields were invited to discuss the findings of "Research on Economic Support Policies for Cultural Industries: International Experience and Implications", a major program of humanities and social sciences funded by Shanghai Municipal Education Commission. Team members of the program participated in the meeting and reported on the progress of their respective research on the US, UK, France, Japan and Shanghai.
Rong Yueming, former Director of the Institute of Literature, Shanghai Academy of Social Sciences, suggested that research should be conducted on the basis of relevant literature review of different countries, and since the concept of cultural industry varies in different countries, statistical differences should be noted. Attention should be paid to the development of new industries, such as Japanese animations, American Hollywood movies, Chinese online literature, etc. It is believed that cultural consumption leads to consumer upgrading and better quality. The new trend of cultural industry brings about changes in the professional division of labour, calling for coordinated development of relevant sectors. He also pointed out that the impact of development of industries on sectors of government management was different from country to country, which required a thorough survey.
He Jianhua, chief expert of Shanghai Cultural Research Centre, pointed out that a good research should not stop at sorting out data, but should focus on further research. The relationship between the development of cultural industries and economic support should be given special attention. In terms of internationally comparative study, contemporary cultural industry sectors such as Hollywood in the US, Korean Wave, Japanese animation, British museums and French fashion should be probed into to find out the development logic, current situation and future trend. A comparative study should also be conducted in policy review, especially on how cultural industries interact with economy and how they promote each other.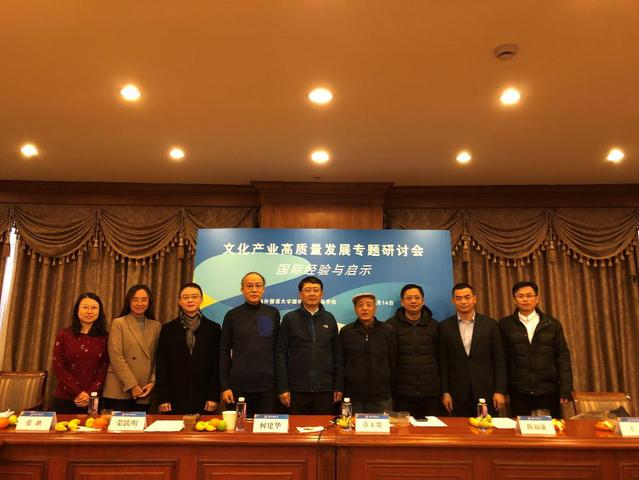 Wang Duo, editor-in-chief of Shanghai Observer (a division of Liberation Daily) and Chen Fukang, professor of the Institute of Literary Studies at SISU also provided constructive suggestions on how to promote the high-quality development of cultural industries.